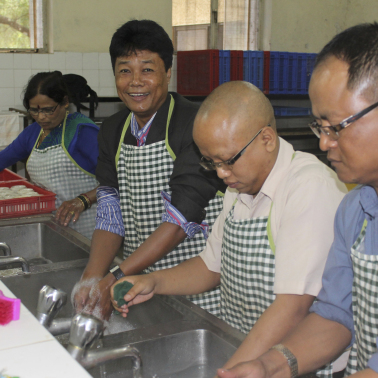 The Genesis and Evolution
For years, the focus of businesses has been to build competence in their people for economic efficiency. The need for character and values in its leaders and executives for sustainable business has become increasingly obvious. The challenge is how we build character into people.
Heart of Effective Leadership (HEL) programmes, were developed in an attempt to meet this challenge and has drawn over 2000 senior executives from leading business houses of the country since 2005. Reputed business groups like Tata, Kirloskar, SKF, and Siemens as well as small and medium enterprises regularly depute their senior managers. It is also gaining popularity amongst public sector units with participation from organisations like BARC, KPTCL, NIRD, etc.
Experience with these programmes confirmed our conviction that each person has within himself/herself the knowledge, wisdom, and courage, which come to the fore on quiet reflection.
The programme is designed and conducted by facilitators from a variety of backgrounds, including business and industry, who have applied in their personal life and at work the highest values that they know and reaped gratifying results personally and for the organisation.  The generally interactive and reflective sessions are experiential rather than instructive. They inspire participants to adopt effective ethical leadership for good corporate governance and sustainability. A special feature of the programme is that it is based on the core principle that 'good inner governance leads to effective external governance'.